Fighting a scientific battle against antibiotic resistance
2018 Young Distinguished Alumni Andrew Alexander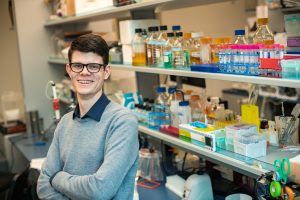 Andrew Alexander has only been a UFV alumnus for four years, but he's accomplished enough in that short period to earn him the Young Distinguished Alumni Award for 2018.
After finishing his Bachelor of Science (Honours) with minors in biology and chemistry in 2014, he headed into a master's degree program in molecular biology and biochemistry at the University of British Columbia, and then was invited to transition straight into a PhD program, where he continues his research. He has completed all the coursework for his doctorate with an A+ average.
An enthusiasm for scientific research sparked during his time as an undergraduate student at UFV inspired him to choose research-focused graduate studies over his original goal: veterinary school to follow in his father's footsteps.
"Science is an incredible technique to use to study the world," Alexander says. "It's awesome in the truest sense of that word. I feel driven to find out things using science, and that's what has led me to where I am today."
In his current research, he uses X-ray crystallography to study the molecular basis for antibiotic resistance in bacteria, exploring and characterizing proteins involved in peptidoglycan biogenesis and antibiotic resistance.
"By understanding how molecules interact to facilitate or prevent antibiotic resistance I hope to improve our understanding of bacteria as well as aid in the development of new antibiotics," he notes.  "Through this work, I try to understand and provide solutions to the global challenge of increasing antibiotic resistance."
He plans to continue his PhD studies for a few more years, then conduct post-doctoral research with hopes of landing a permanent academic position.
Since 2016, Alexander has held a prestigious Vanier graduates scholarship, funded by the Canadian Institute of Health Research, worth $50,000 per year.
He declined three other doctoral scholarships due to winning the Vanier, and also received the $17,500 Alexander Graham Bell graduate scholarship funded by the Natural Sciences and Engineering Research Council of Canada in 2014. While at UFV he earned Dean of Science Medal of Excellence as the top graduating science student.
Alexander spends his days and many nights working in the structural biology lab run by Dr. Natalie Strynadka at UBC, but also makes time to contribute to his community.
He is a member of Green College, a residence at UBC that encourages interdisciplinary interaction and public outreach. His contributions have included serving on the academic committee, organizing talks, co-chairing lecture series, acting in a play, and presenting his own lectures, which make his scientific research understandable to a lay audience.
He is also a member of the editorial board for the Centre for Blood Research magazine and has contributed several articles to the publication.
And he serves as a mentor to undergraduate students, which he started doing while still a UFV student.
Alexander was homeschooled before starting at UFV in 2010. He credits his time at UFV for setting him on the path to a research career, particularly for the extracurricular research experience he was able to get as an undergraduate.
He started in chemistry professor David Fenske's lab in lipid biochemistry lab in winter 2013, and then spent two summers working in the lab of Dean of Science Lucy Lee, studying how toxicants affect fish cell lines. In his final year his honours project with biology professor Steven Thomas focused on using bacteria for soil remediation after oil spills.
"Doing research is such an important part of a scientific education," he notes. "The second you step into a working lab, it is so different from the classroom or prepared lab. Doing real research while an undergraduate prepared me for the reality that we don't know the answer or the best way — we're trying to discover it. There are not guaranteed results. It can be very frustrating but when you do get something to work after several months of trying it can be pretty amazing!"
He also credits Dr. Lee for pushing him to the next level by encouraging him to apply for the NSERC graduate scholarship that set him on his current academic and research path.
"She didn't let up in insisting that I apply for the scholarship and helped me come up with a research proposal that led to a successful application."
Lee was mightily impressed by Alexander when he was an undergrad at UFV.
"Andrew is one of those rare jewels that one comes across once in a lifetime," she says. "He is without doubt among the top students I ever had the pleasure to supervise in my 35 years as a researcher. From the moment I first met him, he had the most inquisitive and in-depth questions that set him apart. He set the bar very high for UFV students, and he jump-started my research program here. He is not only super-smart, independent, hard-working, organized, and driven, but he is also a pleasure to talk to, is incredibly humble, is a team player, and has great people skills."
Although his initial reaction to being named the UFV Young Distinguished Alumni for 2018 was shock, he is also delighted to be invited back to UFV for the ceremony at UFV's annual Town and Gown event. He is also returning for a Faculty of Science graduation school information night.
"It's nice to feel connected to UFV," he says.
Share This