From talented teenager to lifelong UFV supporter
Denise (now Tuchscherer) Rehman's basketball journey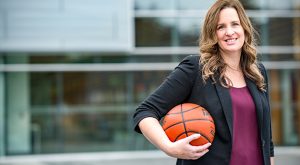 Denise Rehman (now Tuchscherer) was just a 17-year old kid from Langford on Vancouver Island when she started what turned out to be a life-changing and lifelong relationship with UFV in 1992.
She knew nobody when she stepped onto campus, not even the coach.
"I had been recruited by Mike Hind, but he took a job with Basketball BC before the season started, so I was starting from scratch."
She played four years for coach Sandy Chambers, forming strong bonds with her teammates along the way.
A 6'2" centre, Denise starred for the Cascades women's hoops program for four seasons (1992-93 to 1995-96). She helped the UFV program become a national powerhouse, and was part of three consecutive CCAA national silver medal-winning teams (1994, 1995, and 1996). Among her individual accolades were two CCAA All-Canadian nods, a BCCAA championship MVP award, a trio of CCAA national tourney all-star honours, and a Basketball BC college player of the year award. Her name is all over the Cascades' record books — she's the CCAA-era leader for playoff games played (15) and playoff points scored (163), and ranks fourth all-time in regular-season points (682).
"Basketball at what was then UCFV was a great part of my life," says Denise. "We won three silvers at the nationals, and I made a lot of friends, some of whom I am still in touch with today, and got a great education. We rented houses together and would get together after practices and games to talk about it all over again. Now we see each other when our kids are playing against each other in tournaments."
On January 5, Denise was being honoured again as she was inducted into the UFV Cascades Hall of Fame.
She's happy to be recognized, even though she prefers to avoid the spotlight.
"It's pretty cool to be included in the same category as Tracy McLeod and Carolyn Lucy, two really great women basketball players who played before me, who were both inducted last year."
Decades later, Denise is still at UFV, working as a financial aid and awards advisor, helping students gain access to funding for their education.
Share This