Gary Bass embraces midlife learning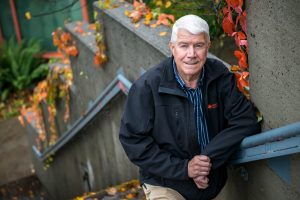 He might not match your vision of a university student, unless your default is a high-level, mid-career RCMP leader in his 50s.
That's the stage of life Gary Bass, UFV Distinguished Alumni winner for 2016, was at when he first attended UFV.
He was a top cop, looking to learn more about the criminology theories he was putting into action with the RCMP.
Gary worked his way up to Office in Charge of Major Crimes in BC, then Commander of E Division, then Deputy Commissioner for Canada West.
His career in the RCMP spanned almost four decades, from 1972 to 2011. Now retired from the force, he continues to work as a senior research fellow for a criminal justice think-tank.
Working with Darryl Plecas, then head of Criminal Justice at UFV, Gary was instrumental in establishing an RCMP-funded research chair partnership, criminology computer labs where the RCMP and university could share information securely, and educational bridging options for RCMP officers.
Then the industry partner became the student. When UFV launched its master's degree in criminal justice, he joined the first cohort, and packed his weekends and evenings with classes, studying, and research, graduating with his MA Crim in 2008.
It helped that the research he was interested in pursuing dovetailed nicely with day-to-day projects he was involved in at work. He focused on the crime reduction model, which takes a "wraparound" approach to prolific offenders and ensures that the health care, education, social services, and housing agencies are all involved.
Over the course of his career, Gary worked undercover, investigated serious crimes, and served as an expert witness. He's been involved in investigations of homicide, organized crime, and drugs, and in the area of national security.
As for how he feels about adding yet another accolade to his many other awards and medals, Gary simply says: "I'm very honoured."
Share This