Helping Indigenous offenders heal through connection with culture
2017 Distinguished Alumni Emily Henry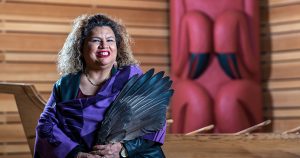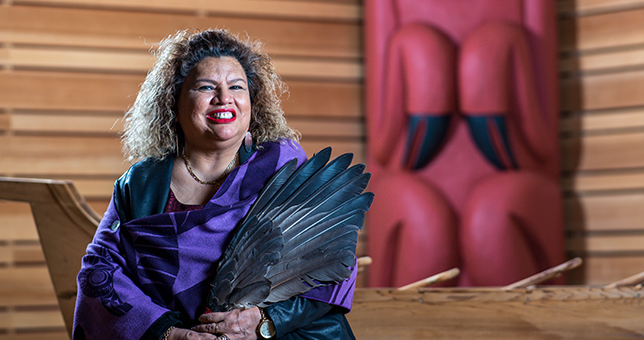 Many people note the over-representation of Indigenous people in the federal corrections system.
UFV alumna Emily Henry has built a career on designing programs to help them.
For her leadership role in introducing treatment programs influenced by Indigenous cultural beliefs and practices, the University of the Fraser Valley is recognizing Henry as its Distinguished Alumni award winner for 2017.
"My career reflects and is an extension of my life purpose," says Henry, who earned a Substance Abuse Counselling certificate at UFV in 2005.
Henry completed the certificate program at UFV to improve her counselling skills and knowledge in this field. Her post-secondary journey has also included courses at Simon Fraser University and the University of Saskatchewan, and many professional development activities.
"I was thoroughly excited by what I learned in the UFV program," she notes. "I saw value in every course and topic we explored, which led to me excelling and being named to the Dean's List."
Henry works for the federal justice system, where she has created two different streams of intervention programs: the Aboriginal Integrated Correctional Program Model (AICPM) stream; and the AICPM Sex Offender stream. The 10 different programs she has authored within these streams are culturally based and are blended with cognitive behavioral therapy. They are designed to address both the factors likely to cause criminal behaviour, and the common but unique Indigenous intergenerational social history factors that Indigenous offenders often share.
The program streams help offenders address the impacts unique to them caused by factors such as attendance at residential school, involvement in foster care/adoption, and cultural and community fragmentation as a result of the legacy of colonization.
These program streams are offered to every federally incarcerated male Indigenous offender across Canada. Henry has also written training manuals for staff and for Elders.
"One of the profound privileges of my job is that I get to work with Indigenous Elders all across Canada, which gives me exposure to the diversity of Canadian Indigenous cultural traditions," notes Henry, who is from the Ochapowace Cree First Nation in Saskatchewan. "I am guided by the traditional ancestral teachings and ceremonial practices of Indigenous peoples."
Henry strongly believes that connecting Indigenous offenders with their traditional culture can put them on the road to healing, ultimately contributing to public safety.
"When a person engages in a learning journey, they become knowledge keepers. The knowledge they have acquired can not only make a positive difference in their life, but it also gives them a sacred responsibility to make a positive difference in the lives of the next generations."
As Henry developed the program streams for Correctional Service Canada, she reflected on the different theories she learned while at UFV. She was able to integrate some of them, such as the influence of substance abuse issues on the development of criminal behaviour, into the intervention program streams she created for Indigenous offenders.
"I am both humbled and honoured to be named UFV's Distinguished Alumni," says Henry. "I am grateful to have been part of a learning institution that helps to create knowledge keepers who have a positive impact on the next generation."
Jeni Sanipass, an Elder for the Mi'Kmaq Nation, wrote to UFV in support of Henry's Distinguished Alumni nomination.
"Emily Henry's vision for tomorrow is strong; it speaks to retaining our cultural traditions for guidance and healing of the intergenerational impacts. She inspires both offender and staff to participate in ceremonies, utilize sacred traditional medicines for healing and work with Elders for personal counsel. For all of us who know Emily, we can see that helping her people comes from a place of compassion. She works to make a positive difference in the lives of people, not just for today, but for good of the next seven generations. A true Indigenous leader, Emily stands in honour of all of our people across the nation."
In 2016, Henry received the Art Solomon memorial award as Correctional Services Canada's Indigenous employee of the year. She has also received three national awards of excellence, and presently leads the Champion and Chair initiative, representing Indigenous employees in various employment equity committees and events.
In addition to her Correctional Service work, she worked as a youth counsellor with the Squamish Nation, and taught part time in a substance abuse counselling course at Vancouver Community College.
Share This