How DeVry grows more than just plants
DeVry Greenhouses span around 800 acres of nursery space, greenhouses stretching across the flats of East Chilliwack, and locations as far as Alberta. They are a true made-in-Chilliwack success story.
But DeVry's green thumb isn't reserved for just its plants. Just as a growing plant needs healthy doses of water, nitrogen, phosphorus, and potassium, this growing business has found the formula for growing people, many of whom have roots at UFV.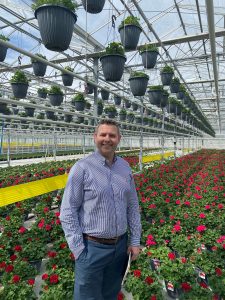 "I started here in 1998, as a school kid," says Jack Rozendaal, Director of Sales at DeVry. "After school I would come here; we only had a few acres in Castleman Road. And at that time, it was working in a greenhouse with Arnold and Pete DeVry. Just working hard, spacing geraniums."
Rozendaal, who earned his Bachelor of Business Administration from UFV in 2003, has been a key factor in DeVry's growth since he started as a teenager.
After completing his degree, founders Arnold and Pete DeVry approached Rozendaal about growing into a new role in the company.
"I gained experience, and then when I finished my degree, they asked me if I wanted to start a fundraising department," says Rozendaal. "I agreed because we didn't really have any direct sales in Canada at the time."
Rozendaal found that the sector was ripe for success. The needs of the department expanded, and quickly. Within a short time, he needed help. So, he called on his friend and fellow UFV alum Jeremy Acker (BBA '05).
"From there on the business grew," says Rozendaal. "We now supply Loblaw's, Lowe's, Rona, Save-On-Foods, Sobeys, Costco, and so many different independent garden centres."
And with this growth, more UFV grads joined the team. According to Rozendaal, nearly 30 UFV grads work with DeVry now. In fact, UFV seems to permeate every facet of DeVry's business.
Part of this is due to a strong relationship with the university.
"I was taking classes with Mark Breedveld and Jack reached out saying DeVry had an opening," says Danica Collier-Pandya (BBA '20), Key Account Manager at DeVry. "Mark reached out to me saying this would be a perfect opportunity."
And this is a story common with many of the UFV alumni working for DeVry. Now, Rozendaal and Collier-Pandya frequently present in Breedveld's classes on various key concepts in the business world.
You'll also find alumni doing hands-on work in the greenhouses, Max Findlay (Cert Ag Hort Prod '19) works with the energy of a man driven by passion.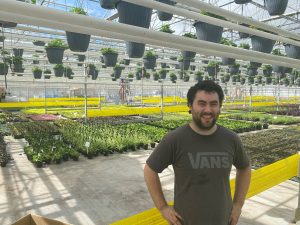 "I just love growing the plants," says Findlay, who grows mostly in tropicals. "I love challenge. That's what it is. Even when I was in school, I would try to grow things from seed that people don't grow from seed. I would just challenge myself. I get to do it here, and we have all the tools to grow great plants."
Findlay's biggest success is his crotons (a variegated house plant).
"Before I came here, they had a terrible time trying to propagate it," he says. "My last batch out of 600 plants, I only lost one."
"It starts with people. That's the biggest thing that just for us. Without people we're nowhere."
It's apparent as soon as you set foot onto DeVry's property that they have something special going on. The energy is electrical and positive. There is an air of joy and passion in every corner of their office and greenhouse. Employees greet you with a smile as you walk through their parking lot or stop to smell their flowers.
The reason for this can be seen at the entrance to the office. DeVry has made it their mission to "inspire people to grow".
"It starts with people," says Rozendaal. "That's the biggest thing that just for us. Without people we're nowhere."
It's clear in talking to Rozendaal that he takes this value to heart. As someone who started with DeVry and was nurtured and supported to the point where he is now Director of Sales and sitting on the executive team of the company, he wants to see the same for his colleagues.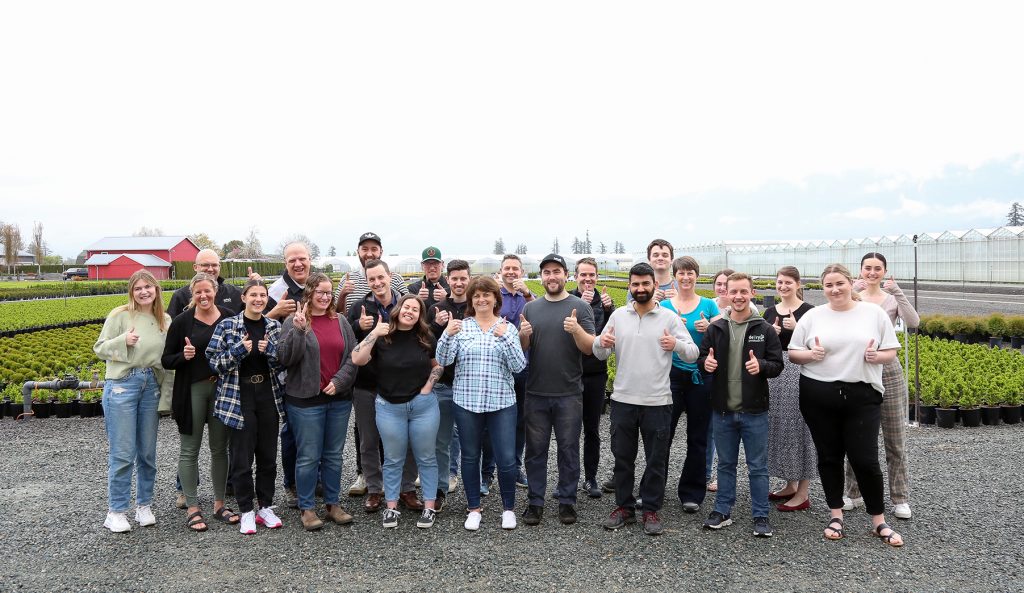 "We have a big culture where it doesn't matter how old you are, it's just how hard you try," he says. "That's the way that Arnold and Pete have also taught how to run business. It's not like you need five years' experience before you can do this. Just go for it. That's the whole principle we use. For instance, Danica oversees Loblaws. I mean it's a huge account for us. She does a phenomenal job. You can't say, oh, you need five years' experience. It's like if you're good at it, go for it and we will all support you. That's our philosophy."
And it's clear the philosophy works.
From the time when a writer from UFV's Aluminations magazine talked to Rozendaal in 2009, DeVry has expanded exponentially, and with it brought many more smiling faces to their business.
"You cannot do it without your team," says Rozendaal. "That's it for me. They make it work."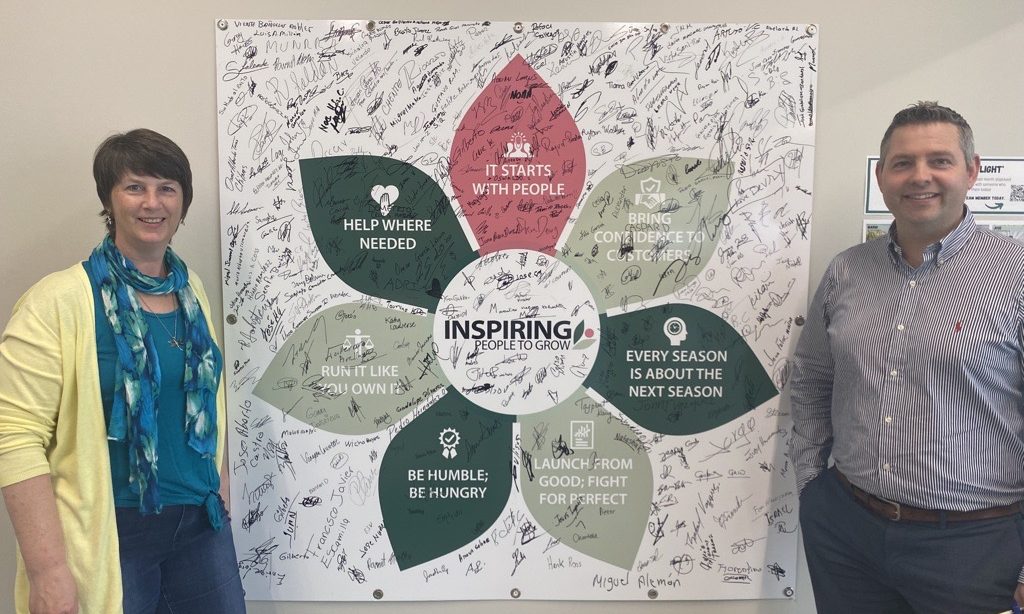 Kathy Louwerse (Cert. ABT '88) stands with Jack in front of the poster for DeVry's values
Share This