Kendra Schellenberg recognized at 2022 Arty Awards in Fine Arts
For creative entrepreneur and artist Kendra Schellenberg, art has always been a community discussion, a way to start conversations or to empower others. Especially women. When her name was announced as the winner of this year's Arty Award for Fine Arts, she was surprised.
"I would be lying if I didn't say that there isn't a certain degree of imposter syndrome to beat back at the prospect of being recognized publicly," says Schellenberg. "I had honestly mentally prepared myself not to win."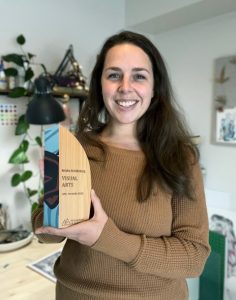 For 18 years the Abbotsford Arts Council has been celebrating artists in our community with the Arty Awards. This year saw nine categories of awards, including Fine Arts. Of those nine categories, four alumni from the University of the Fraser Valley were nominated, including songwriter and poet Alex Rake (literary arts, BA '16), fashion designer Casey Lamb (lifestyle artist, BA '20), print artist Emilie Kvist (arts advocate, BA '21), and Kendra Schellenberg (fine arts, BFA '16).
Schellenberg received her Bachelor of Fine Arts from UFV in 2016 and has been working as a creative entrepreneur since. She has been able to work full time as an artist for a few years now, something that is not easy to do. Part of her success is tied to her discussion-based approach to art.
"I've always felt that creative work is benefited from discussion and collaboration — which is why I've tried to take part in Abbotsford's creative community whenever I could," says Schellenberg. "I even ran an artist collective for a few years that was made up of local artists, where we would get together and discuss our work and give each other feedback and encouragement."
Her art has always been about conversation, and with her latest series BloomingBodies she seeks to talk about issues she cares deeply about.
"My most recent series of paintings address the troubled relationship I've had with my body throughout my life — a familiar story for many people," says Schellenberg. "Throughout the pandemic, my self-care and health routines had fallen to the wayside in large part, so the process of stepping into a space of vulnerability and tenderness with my body was exactly what I was aiming for."
To complete this project, she collaborated with Coquitlam boudoir photographer Michelle Mateus of Mateus Studios. Schellenberg felt an instant connection with the message and purpose behind Mateus's photography, which, according to Mateus's website are all about "owning yourself and empowering yourself."
"The photos we created together, which became my reference material for the painting series, are a way of reclaiming the power of sensuality and self-love that many of us are taught to think of as shameful," says Schellenberg.
Her next steps for BloomingBodies are to collaborate with others who have had similar experiences of body shame and want to celebrate themselves. With the growth of this collaboration, Schellenberg hopes to discuss positions of power with sexuality on a broader scale.
"Part of how the patriarchy maintains its power is by demonizing sexuality, particularly that of women, and other minorities by encouraging us to stay small and by preventing us from stepping into our power," she says. "So, I very much see this series as an act of resistance against that system."
And this is not the first series of works in which she has taken a political stance.
One of her favourite illustrations/designs borrows a quote made more famous by its role in Margaret Atwood's The Handmaid's Tale: "don't let the bastards grind you down".
"The quote is as much a reminder to myself as to anyone else," says Schellenberg. "This fight is not in the past, it is not as distant as you may want to think, and it sure as hell is not over."
With Schellenberg's latest Arty Award recognition, it's clear that her discussions have found common ground. And the experience has been very humbling for her.
"I would like to thank the Abbotsford Arts Council for being champions of the arts and artists in our community, as well as everyone who is involved in putting on the Arty awards," she says. "I'd also like to thank the person who nominated me, who is a good friend of mine and is always in my corner. And also my partner, who has been incredibly supportive of me and my work. He believes in me even when I don't and I could not have made this transition to being a full-time artist without him."
Find Kendra's portfolio online: kendraschellenberg.com
Share This