Making the Uncomfortable Comfortable
How Healing Informed Photography Seeks to Help Others Embrace Themselves
There aren't many swimmers in Cultus Lake in the middle of March. The lake is unforgivingly cold, and a cool breeze washes up from the valley, so that even on sunny days the air is crisp. And then there's the geese.
But sometimes it's not about comfort. When photographer Sarah Sovereign (BGS '15) invited her latest model out for a photo shoot, it wasn't about comfort. The model, Leanne, is struggling against her own body as she journeys through a Multiple Sclerosis diagnosis, and when she submerged in Cultus Lake in the middle of March, she and Sarah were exploring her struggles through art and photography.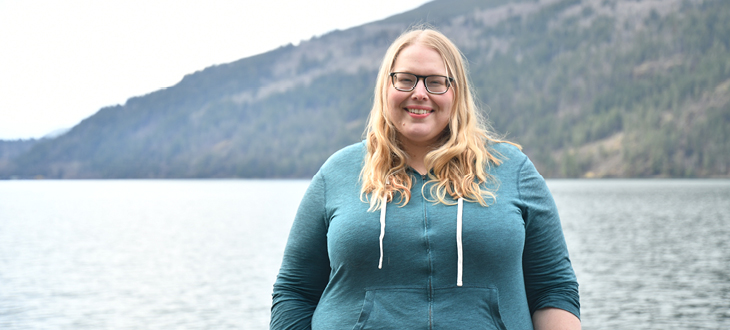 "But she when she was here and the camera was ready and everything was ready, you could tell that that story was right here, ready to be told."
This is a practice that Sovereign has come to call "healing informed photography", a blend of her passion for art, and knowledge gained from earning a master's degree in counselling after her BGS.
"I got into counselling because I wanted to do this type of work, combining my photography and counselling skills to help people work through challenges," says Sovereign. "And when I went into school, it was so different, and nobody really knew how I was going to bring photography and counselling together. And I didn't know how I was going to do it."
But in the many years that Sovereign has been practising this form of storytelling, she's found a process that works for her, one that allows for her models to express their stories in a safe space, in a safe way, even if it is at times uncomfortable.
"I think that when people have a story that they want to share, there's a lot of processing that goes into just getting here," says Sovereign. "If people are thinking about it and they're thinking about what they're going to do, they tend to come to the session ready. And when Leanne came, she had moved out of that ready state because we'd had to reschedule because of snow. So, when she came here today I did just a few reconnecting things.
"But she when she was here and the camera was ready and everything was ready, you could tell that that story was right here, ready to be told."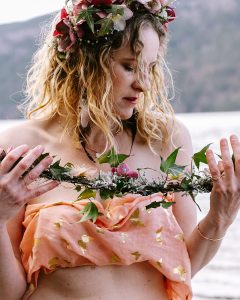 For Sovereign, this is just a part of the process. Due to the sensitive nature of her work, she ensures that although the model may not be in physically comfortable situations, they do feel comfortable with themselves and feel safe.
"I think it's important for people to be able to know me and meet with me and feel comfortable with me first," says Sovereign. "And that happens with the first meeting that we have. But I also think that's kind of the person that I am. I'm sort of I've always been somebody who's just going to meet them where they're at."
Sometimes, though, she needs to work to build that connection to a person's story.
"Sometimes when I am shooting somebody, you can tell if they're not feeling 100% comfortable, or if something is off. And then that's when I'll walk with them a little bit to bring them back. We establish what safety is for them and make sure that this feels safe. And then I talk with them about their story to connect them to that emotion."
This is a space where counselling meets art, and inevitably Sovereign will have to impart her own interpretation of the model's experience into the photography.
"I don't believe that I could be a therapist in the conventional sense for someone and also be their photographer. That's because I think there's a lot of bias that comes with being a photographer," says Sovereign. "I'm sort of meeting somebody where they are seeing their story unfold, and then I'm interpreting it through my own bias and my own skill and my own craft. And that seems very different to me than what I would do as a therapist sitting across from somebody."
Part of that interpretation involves a strong partnership with Sovereign's friend, fashion designer Siobhan D'Souza, another UFV alum from the Fashion Design program. Their partnership was a matter of serendipity, after meeting through another photographer. Shortly after, they arranged their own photoshoots together, and quickly realized that their artistic work meshed well.
"It's kind of a magical flower. It's got like it's just a very, very old flower with like very, very old lore."
"She has a really great way of seeing what I like, hearing my idea and then translating into something beautiful," says Sovereign. "I think we have a really good relationship in that Siobhan can tell me if something is not working or if she feels that something looks like garbage. And that's such a sacred process to have between creators where you can take that criticism without taking it right into the centre of your heart and letting it just rot there."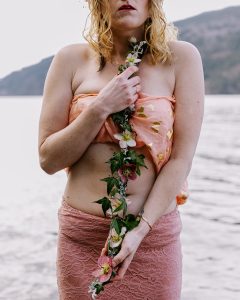 For, Leanne's photoshoot, Siobhan designed a crown and spine made of the flower hellebore. During the shoot, the two worked together like old friends and partners, reworking the process in situ, and allowing the art to take its own form, even allowing one to step in over the other to allow the work to grow.
"Siobhan will tell me if she doesn't think something is working," says Sovereign, "I'll tell her If I don't think that something is working and we're both great at working on the fly. I think that has really helped me to be the go-with-the-flow photographer that I am."
Wearing the hellebore crown and spine, Leanne walked into Cultus Lake to have her photo taken, Sovereign walking in with her.
The hellebore played an integral part in the interpretation of Leanne's message, just as much as Siobhan's designs.
"It's kind of a magical flower. It's got like it's just a very, very old flower with like very, very old lore," says Sovereign. "But it's also to me, a resilient flower. I have had hellebore in my garden and then we had that dump of snow and they're still surviving after being under like three feet of snow."
So, cold and wet, Leanne truly had the opportunity to connect with her personal and physical struggles through Sovereign's photography. A space was made through interpretive art, and through the designs done by Siobhan, where she could express herself.
And from it, art is formed, mystical and magical. A permanent and expressive take that will forever live with all those involved in its making.
Though not comfortable in subject matter or situation, the end result and the process to achieve it was healing-informed and comforting in practice.
To see more of Sarah Sovereign's work, you can visit her digital portfolio here.
Share This