Searching for better chronic pain treatments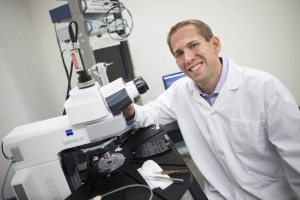 Mike Hildebrand's career plans were crushed when his fiancée (now wife) Sara was accepted into teacher training, but he was not.
"At that point I perceived myself as a failure, but it was also one of my most important learning experiences," he says. "I learned about humility, and about not taking things for granted."
But Mike's UFV professors saw his potential. He was given the opportunity to spend a post-undergrad year conducting research in the university's science labs and receiving valuable mentorship in the process – an experience that opened his eyes to a new world of graduate school and advanced research opportunities.
Mike began graduate school at UBC and soon realized that he wanted to focus on the area of spinal cord research. "There were a lot of big questions still not answered," he says. "I saw a real opportunity to do important work there."
Since discovering his passion, Mike has never looked back. Today, he conducts leading-edge spinal cord research at the Hildebrand Lab as a tenure-track assistant professor in the Neuroscience department at Ottawa's Carleton University.
The spinal cord is an essential component in the pain transmission pathway, and the inability to effectively treat and manage chronic pain is one of the major public health challenges facing Canada today.
For Mike, the people he has met who live with chronic pain have become a motivating force.
"They really put a face on my research for me," he says. "I can think that maybe one day, they will be helped by the research I conduct."
Fourteen years after being rejected from his teacher program, Mike's accomplishments now include completing a post-doctoral industrial research fellowship with Zalicus Pharmaceuticals, and a research fellowship at Sick Kids Hospital in Toronto, and receiving almost $400,000 in research funding for his lab at Carleton.
Mike is UFV's 2015 Distinguished Alumni award winner.
Through it all, he never lost his desire to teach and mentor others. "Our hope is that our program will train future health care professionals and researchers in Canada and lead to the discovery of pain-producing molecules best suited as potential targets for new chronic pain drugs," he says.
Mike is now 36, and he and his teacher wife Sara are happily settled in Ottawa with their three children.
Share This