Staff Excellence 2023: Tara Rozenek committed to providing top service to clients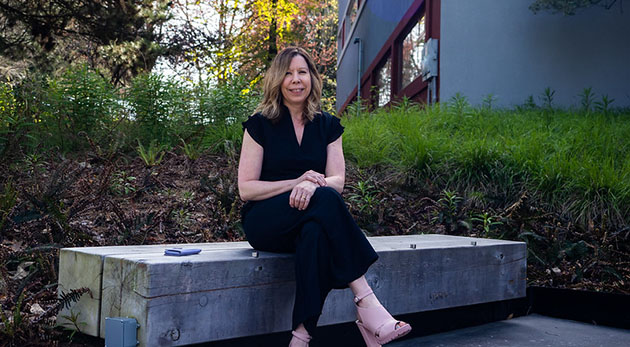 What began as a temporary posting in the auxiliary pool in 1999 has led to a fulfilling professional career in human resources for Tara Rozenek, this year's recipient of the UFV Staff Excellence award.
Like many UFV staff members, Tara is a graduate of the Applied Business Technology certificate (called Office Careers back in her day) and was initially looking for a good, secure job in the Fraser Valley.
Now 24 years later she is a senior advisor on the HR team, with her own portfolio of clients and a special responsibility for planning the series of HR learning events offered to employees each semester.
Along the way she earned her Bachelor of General Studies and also pursued her Chartered Professional in Human Resources certification.
"Tara continually demonstrates a commitment to UFV's HR vision to provide consistent, reliable, collaborative, and innovative services to her clients," said Mark Pearson, UFV's manager of recruitment services, who nominated Tara for the award. "She is committed to providing excellent service, responding to client's questions in a timely manner, while advising of risks, opportunities, and potential outcomes to facilitate a solution."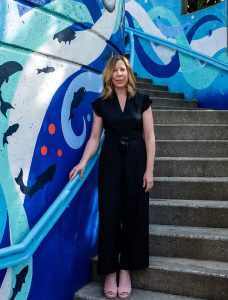 Her talents in seeking out learning opportunities same to the forefront during the pandemic, when most employees worked at home for more than a year. The HR team made a point of increasing the number of online workshops for employees, and increasing the focus on wellness topics.
"Usually I plan a new set of workshops for each of the fall and winter semesters but during the pandemic our goal was to really try to keep employees connected so we really increased the number of offerings. It was quite a task coming up with new content almost every week, sometimes up to 10 workshops a week," she recalls.
Having worked on the HR team since the 1990s, Tara has worked for four different HR leaders, including the late Barry Bompas, who was well known for fostering strong employee relations.
"Barry is the reason I joined the HR team and stayed with it. I really learned a lot about how to treat people from him. It's just the type of guy he was. I also learned a lot from both Diane Griffiths and Dianne Hicks when they were our leader, and now I'm learning from Marnie Wright, who brings a wealth of professional knowledge and gave me the opportunity to take on the role of HR senior advisor."
The business model adopted by HR four years ago means that each HR senior advisor focuses on their own portfolio of clients.
"I really like getting to know my client teams and what their needs are," says Tara. "I like helping people solve problems, and there's never a boring day. I value my relationships throughout the university. I like to help people and to grow as professional, and this job allows me to do both."
As for winning the Staff Excellence award?
"I'm extremely flattered," she says. "And it's very validating to know that people think I am doing a good job. I try very hard to provide good customer service, so when I hear that I am successful that makes me happy."
From UFV today, article by Anne Russel
Share This