Teamwork Excellence 2023: Research and Graduate Studies exemplifies collaboration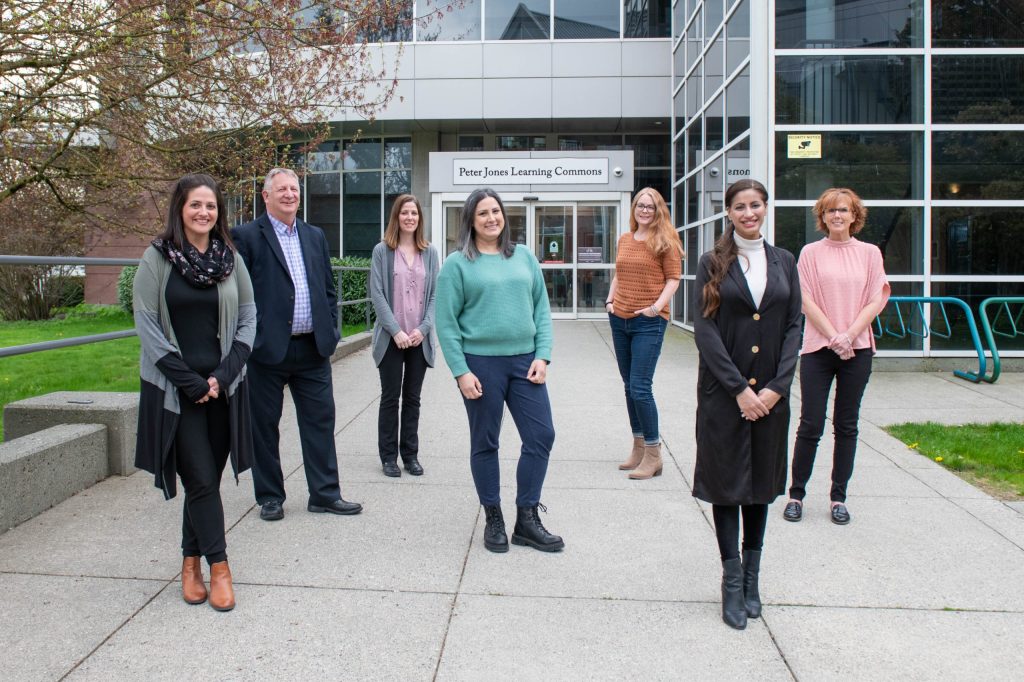 The Research and Graduate Studies team, l to r: Tracy Morrison (BA '21), Garry Fehr, Natalie Vanderleest (Cert ABT '22), Yvette Fairweather (BA '08), Leona Oakman, Ash Lalani, Kelly Tracey. Not pictured: Elicia Tournier (Cert ABT '04)
If there's one phrase that sums up the attitude of members of the Research and Graduate Studies team, it's "how can I help?"  
The entire team lives by this phrase every working day. 
For Martha Dow, Director of Community Health and Social Innovation (CHASI) Hub, the choice was obvious when it came time to nominate one team for the Teamwork Excellence Award: The Research and Graduate Studies (RGS) Office.  
"We would not be able to do our work without this incredibly talented and generous group of individuals," Dow says about the group she describes as the "miracle team." 
The moniker is accurate. Garry Fehr, Associate Vice President of Research and Graduate Studies, notes that his team has a significant impact on many areas of UFV.  
"In the past five years, the value of external research funding has quadrupled, the number of research centres and institutes has doubled from six to twelve, the number of student research assistants has doubled, and the number of events supported from the office has risen from seven a year before the pandemic to 46 in the past year alone." 
The RGS Office has grown immensely to meet the research needs of faculty members and their student research assistants since its establishment in 2003. The team's work involves managing large volumes of research-related logistics, interactions with non-government and government agencies including the federal Tri-Council agencies (NSERC, SSHRC, and CIHR), ensuring the timely delivery of grant applications and reports, and facilitating research student support, which includes work-study applications and other grants. On top of this, they also lead and plan celebrations such as Student Research Day, the Undergraduate Research Excellence Awards Banquet, and more. 
"The Research Office could not have survived if they didn't have teamwork embedded in their DNA," notes Fehr. 
"We have managed to provide the service our university colleagues deserve during this time of steady growth because everyone pulls together and fills gaps as needed to ensure we are all successful. For example, we have one events coordinator, but everyone comes together to host events, or cover meetings for their teammate when workloads are overflowing." 
While their list of work is extensive, the RGS team approaches every interaction with an attitude of patience, generosity, and purpose. 
This has been appreciated by many of the faculty members who come to the Research and Graduate Studies Office, several of whom have mentioned that their research projects would not have succeeded without the support of the RGS team. 
When faculty are stressed with grant or ethics applications or fretting over late suppliers delivering key equipment or chemicals for research labs, the RGS Office staff are a steady ship that weathers the storm, never flustered or frustrated. 
"We [faculty] can often make last-minute requests and too often quite frankly don't know how to get done what we have to get done," Dow explains. "I can't adequately describe how instrumental the RGS team is in assisting all of us as we navigate who we need to speak to within the often-shifting landscape of the university." 
With such a shifting landscape, it can be daunting to step into the realm of research, but the RGS Office staff supports curious undergraduate students and makes it much more accessible, notes student Jeff Mijo-Burch.  
"It's clear from every communication I've had with members of the RGS team that they care deeply about supporting their students." 
Regardless of whether you are faculty, staff, or student, the RGS is there to greet you warmly and ask, "How can we help you?" 
"I am proud of them and enthusiastically come to the office each day for the pleasure of working with each one of them," said Fehr.
From article UFV Today, article by Anne Russel
Share This