UFV Indigenization and Reconciliation excellence 2023: Lorna Andrews helps colleagues to decolonize themselves and their Indigenize their teaching practice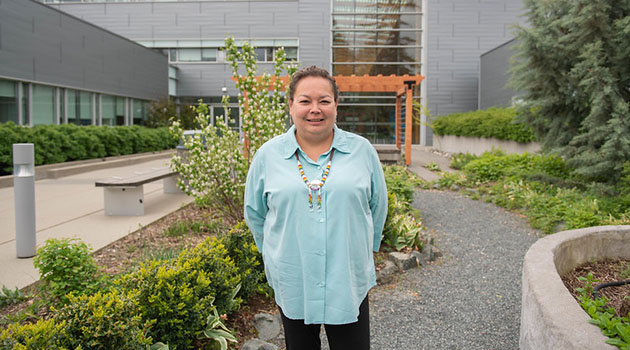 Lorna Andrews doesn't have an easy job, but she has an important one.
As UFV's Teaching and Learning Specialist with a focus on Indigenization, she helps faculty and staff understand issues regarding colonial impacts on Indigenous people and the need to work towards reconciliation in Canada.
For her efforts, she is being recognized as the first-ever recipient of the UFV Indigenization and Reconciliation award.
Andrews is of Nla'kapmux Nation descent and married into the Stó:lō Nation. She has worked within Stó:lō and Indigenous communities for over 20 years, focusing on employment, training, and post-secondary education. She is a proud UFV alumna with a Bachelor of Arts in Adult Education and went on to complete her master's degree at Simon Fraser.
Andrews first joined UFV 10 years ago as the director of the Indigenous Student Centre. She moved into her new role in 2019 out of a desire to help faculty to decolonize themselves and Indigenize their course material/practice.
"I'm doing the work I do on behalf of my mother, my husband, and my children," she says. "Through my work, I give them a voice. It's hard work for sure, but it's necessary. I have a lot of personal connections to the biggest things that have happened to Indigenous people."
Andrews' mother is a residential school survivor. Her husband was taken from his family in the Sixties Scoop and grew up in a non-Indigenous home. She serves as guardian of her great-niece so that the young girl does not have to go into the foster system. Another relative is among the missing and murdered Indigenous women.
In her research for her master's degree, Andrews studied factors that need to be in place in order for Indigenous students to feel comfortable and be successful in a post-secondary setting.
"They need to feel a connection to their Indigenous identity, to their family and community or a local surrogate one, to the institution itself and its services, and to academia," she notes. "The fourth one is where we still have a real challenge. There's lots of work that still needs to be done."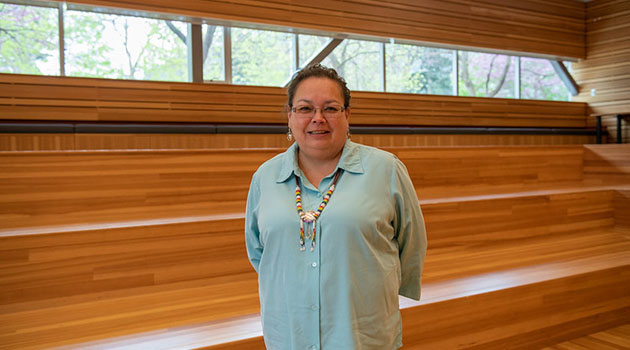 Andrews finds that some faculty and staff are very ready to learn about ways to incorporate Indigenous Ways of knowing and being such as using the Five Rs (Respect, Relevance, Reciprocity, Responsibility, Relationships) as a framework for their work and their courses, while others are resistant. She hopes that the resistant ones will come to see the value of it for the sake of their students.
She notes that the Government of British Columbia has enshrined the United Nations Declaration on the Rights of Indigenous Peoples (DRIPA) as the Province's framework for reconciliation, as called for by the Truth and Reconciliation Commission.
"DRIPA is the law in B.C. and we need to educate people about what that's going to look like. It's going to affect many areas that our students go on to work in: teaching, social work, health, trades, business, and more."
Andrews offers many workshops such as Chat-R (Reconciliation), Weaving Knowledge Systems, and Educators Journey Towards Reconciliation in order to foster decolonization and Indigenization among faculty and staff. She also works with departments and individual faculty to Indigenize their course or program content.
Although she finds the work and the constant revisiting of trauma experienced by her family wearing, she pushes on, because she knows that Indigenous people need allies, and those allies need education.
"We need people to walk beside us on this journey. For reconciliation to truly happen, it needs to be the work of both Indigenous and non-Indigenous people."
As for winning the award, she's considering it a family affair.
"I'm accepting the award on behalf of my mom and husband, because it's their stories that I share."
From UFV Today, article by Anne Russel
Share This