Artist Talk with Sara Khan — June 10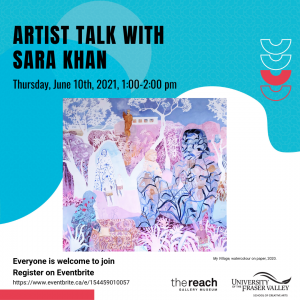 The UFV School of Creative Arts and The Reach Gallery Museum are excited host an artist talk with Sara Khan on Thursday, June 10th at 1 pm via Zoom.
Born in England, raised in Pakistan, and now based in Vancouver, Sara Khan explores her relationship to absence and presence through her meticulous watercolour paintings, drawings and murals that often feature fantastical, uncanny creatures.
Khan's work has been featured in several national and international group exhibitions. In addition to her first solo show "Suraj Kinare" in Canada at the Surrey Art Gallery in 2019, her work has also been featured in the book "A Big Important Artist: A Womanual" by Danielle Kryza.
Khan is the upcoming mural artist for The Reach's 2021 CITI/SEEN annual public art initiative. Sara's exhibition: ROSHNI KEY TEH MEIN (IN THE FOLD OF LIGHT), will be open at the Reach Gallery Museum from May 27 – September 04, 2021.
Everyone is welcome to join the artist talk.
Register on Eventbrite
https://www.eventbrite.ca/e/154459010057
06/10/2021 – 06/10/2021
01:00 pm – 02:00 pm
Zoom
For more information, contact UFV School of Creative Arts at soca@ufv.ca
Share This