Alumni Association holds Annual General Meeting
The UFV Alumni Association's first in-person Annual General Meeting in nearly three years, held on May 25th, was celebratory from start to finish. The Alumni Association appointed its inaugural Executive Director, bestowed an Honorary Life Membership, re-elected directors and celebrated three outgoing directors that evening.
UFV's Alumni Association will continue to be led by a committed leader, as Derrick Uittenbosch (BA Crim '13) continues into his last year as association chair.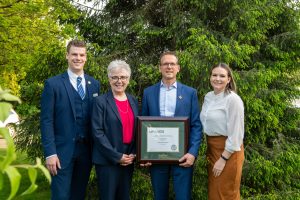 The alumni Board of Directors may confer an Honorary Life Membership on any person who, in its opinion, has made an outstanding contribution to education. UFV's Vice President, External, Craig Toews, was conferred with an Honorary Life Membership. Toews was recognized for his contributions supporting and advocating for the work of the Alumni Association, both throughout the internal UFV community and the communities which UFV serves. As the Vice President External at UFV, Toews brings extensive leadership and a deep understanding of the UFV environment. In his role, Toews is responsible for fostering the university's reputation and heads up key areas, which includes Alumni Relations.
The Alumni Association re-elected the following directors-at-large:
Kevin Renso (BGS '10)
Sunny Kim (BA Crim '17)
Tricia Taylor (AA '03, BA '10)
Jennifer Trithardt-Tufts (BBA '17)
A fond farewell was given to outgoing directors Kihci Têpakohp Iskotêw Ishwêw (Emily Henry) (CERT '06), Isaac Veeneman (BBA '19) and Ashley Ward-Hall (BA '16).
Henry served on the alumni board for three years, having spent time on the Outreach and Awards committee. She was the first person to be named as the board's Equity, Diversity, and Inclusion Officer.
Chair Derrick Uittenbosch thanked Henry for her work as Equity, Diversity, and Inclusion Officer, and adds, "We have much work to do in the area of Equity, Diversity, and Inclusion. We will continue to learn and unlearn and centre opportunities for growth and education around EDI best practices as a board. This work is important to us, and we also acknowledge that it is a journey of continued practice."
Veeneman served on the alumni board for one year, serving on the Mentorship committee.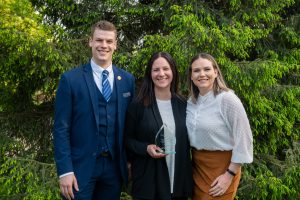 Ward-Hall was the longest standing outgoing director, having served on the board since 2016. During her time on the board, she was on the Outreach and Awards Committee, Mentorship Committee, as well as the Celebrating Student Leaders committee, which she chaired through 2021.
This year the UFV Alumni Association also signed a new Memorandum of Understanding (MOU) with the University of the Fraser Valley, formalizing the new role of Director, Executive Director as well as expanding the Alumni Relations team to three members.
"It is a great honour to highlight a large investment the University has made in prioritizing the importance of Alumni Relations," says Uittenbosch. "I want to formally recognize Maggi Davis (BA '17), the new Alumni Relations Coordinator. Maggi brings a level of professionalism, organization, and wit the entire board is ecstatic to see".
Also thanked for their work during the last two years in the Alumni Relations office were Diane St-Denis, the interim-manager, as well as Ali Siemens, the interim-director.  Their dedicated work to keep the Association's interests moving forward through the time they served was deeply appreciated by the Board of Directors.
The evening concluded with a networking reception featuring appetizers and alumni commemorative wine. View photos from the event here.
Share This