Call for Submissions — 19th annual commemorative wine label art contest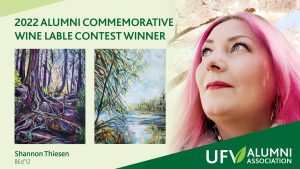 For 19 years, the UFV Alumni Association has celebrated talented alumni artists by featuring their work on a commemorative wine label. This is not only a celebration of you, but a way to continue the Alumni Association's support of our future alumni.
The wine is made locally through Chaberton Estate Winery. Each year two wines are featured, a white and a red, each with a unique artwork on the label by the chosen artist. Submissions should include two different artworks, one for each vintage.
The artist whose work will be featured on the annual label receives a $500 honorarium and will be celebrated at an annual wine launch event.
The call for submissions is now open.
We look forward to your submission!
CONTEST RULES
The contest is open to alumni of the University of the Fraser Valley, University College of the Fraser Valley or Fraser Valley College.
Artwork must be in the possession of the artist at the time of the contest; it cannot be a piece of artwork that has been previously sold or is otherwise unavailable for exclusive use by the UFV Alumni Association during the 2023 Alumni Wine season.
Submission must adhere to the criteria listed in the "Submission Criteria" (listed below).
Submissions which meet the criteria outlined below will be eligible for selection for an additional two years.
Artist agrees to allow UFV to crop digital images of the selected artwork should this be necessary for designing the wine label.
All submissions will be reviewed, and the winner will be selected by the UFV Alumni Association.
SUBMISSION CRITERIA
Artists must submit two (2) different pieces of artwork to be featured on the front labels of the wine bottle, one for the white wine and the other for the red wine.
Submissions must be original pieces of artwork. The submission may include any artwork that can be digitally reproduced – digital reproductions of paintings, photography, sculpture and computer-generated artwork. Each digital submission should consider that the image will be rendered onto a wine label with a portrait orientation. Please see the UFV Alumni Association website for the previous year's labels.
The wine labels are designed and created by UFV's designers; therefore, submissions should not contain any text or label information.
Artists must submit a brief description for each artwork (50 – 70 words per piece).
Artists must submit a brief biography to be included on the back wine label (70 – 90 words). The biography must confirm the artist's year and program of graduation. UFV retains the right to edit the biography for final production.
Artists must submit a high-resolution headshot of themselves in JPG format.
Deadline, January 17, 2022 4:30 PST: all submissions to be sent to alumni@ufv.ca with the subject line, Alumni Wine Label Submission.
Find inspiration by viewing the gallery of past alumni artist wine labels.
Share This