Alongside
Alumni seek to work with Indigenous partners on curriculum projects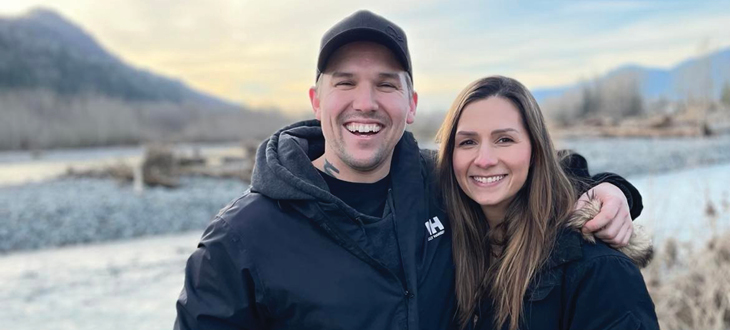 A couple of alumni whose horizons were expanded through their UFV experience are now using their knowledge to work alongside Indigenous communities to develop education resources.
Both Lisa Wolgram (MEd '21) and Michael Ray Blackburn (BEd '19) intended to be teachers when they entered university but discovered other career options within the broad field of education.
Blackburn entered university in 2017 with a plan to become a high school teacher. After completing his bachelor's degree with a major in English (creative writing) and a minor in history, he went on to take the Teacher Ed program in 2019.
But things did not go as planned after graduation.
"After UFV, I did not go on to teach," says Blackburn. "Well, I taught a little bit. In the summer of 2019, I co-facilitated a summer literacy program for immigrant youth at Archway Immigrant Services."
It was through this work, and his time at UFV, that Michael ended up being pulled towards a different path in education all together.
"That summer, Lisa Wolgram, who is now my partner, invited me to apply for work at UFV as a research assistant on a project that involved Stó:lō youth engaging in land-based activities," says Blackburn.
He did so, and was hired. This was his turning point.
Lisa is also a UFV alumna. She completed her Bachelor of Education and was in the first of cohort of UFV's Master of Education program. She is now looking into pursuing a PhD.
"As part of my undergraduate degree, I completed UFV's certificate in Indigenous Maps, Film, Rights, and Land Claims," Wolgram recalls. "This program had a huge influence on the beginnings of a pivotal change in my worldview. After completing this program, I decided to take as many classes that focussed on Indigenous ways of knowing as possible, which led to me completing my undergraduate degree with a concentration in Indigenous Studies."
During her Bachelor of Education studies, she was connected to a federally funded Land-Based Resiliency Project. She worked as a research assistant for Dr. Wenona Hall, head of Indigenous Studies at UFV, for three years.  This grew to another opportunity with the Stó:lō Research and Resource Management Centre, developing a place names resource guide.
"Near the completion of my Bachelor of Education degree, in 2019, I was invited to work on contract on another Stó:lō youth-related project through the Stó:lō Research and Resource Management Centre," says Wolgram. "That project resulted in an invitation to develop a proposal for a more fulsome and longer-term project centered around youth, education, governance, and land stewardship. One that we continue to work on to this day!"
Wolgram and Blackburn, who were now a couple, decided to work together, following a direction that was sparked by their experiences at UFV.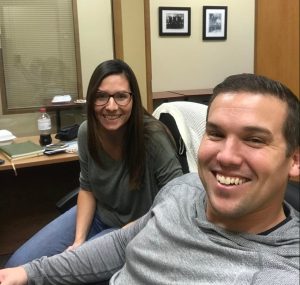 "I started this work with only a few hours a week and I did see it as a great opportunity," says Blackburn, "but more importantly I saw it as a way to support change in the education system. The scope of our contract with the SRRMC shifted into different areas of education and birthed new projects."
This work is something Blackburn feels very passionate about.
"I was drawn to this work by a desire for change and for social justice through education," says Blackburn. "Education enacts change, and this work allows me to support that."
And it's with that desire for change that set the duo off on a journey that saw them found Alongside Research and Consulting, with a goal of working alongside local Indigenous communities to develop education resources.
"We called ourselves Alongside because neither of us have Indigenous ancestry, but all of our work is focused on education related to Stó:lō worldview and knowledges," says Blackburn. "Therefore, we hope to position ourselves alongside Stó:lō people in an effort to privilege Stó:lō ways of knowing and doing as a form of anti-colonialism within the education system. Now, we are contracted on nine different projects with SRRMC that vary between education research, curriculum development, resource development, and youth wellness."
The couple now work fulltime to develop these resources. The impact they are making is continuing to grow.
You can often find the pair of them working in various locations around the Lower Mainland. In fact, they often come back to visit their home institution of UFV to work.
"Our business does not have any physical location," says Blackburn, "and so we choose to work at different places throughout the valley including Stó:lō Research and Resource Management Centre, coffee shops, UFV, and others."
He reflects fondly on his time at UFV, and on the skills he learned that he puts to use on a regular basis.
"The Bachelor of Education program at UFV gave me tools and experiences that informed my understanding of curriculum development, the BC school system, and Indigenous perspectives and knowledge in the BC curriculum," says Blackburn. "It also helped to guide my understanding of social justice and inclusive practice. My Bachelor of Arts degree helped refine my writing and equipped me with critical thinking and research skills. I utilize these skills in both my work and writing daily and they have become valuable assets to me."
"I will probably keep doing this forever if there continues to be a role for me," he continues. "I don't know where it will go, it's amazing that it got here. I would love for our team to grow and include more Stó:lō voices."
In addition to all of this, Blackburn is also a passionate author. He took the creative writing focus in university because he wanted to write novels to engage with issues that he felt needed to be discussed. Currently he is on the fourth draft of a novel he hopes to publish.
Despite his path through life not always being a straight one, he is very thankful for where he is.
"I am thankful that I get to learn from a knowledge system and worldview that is vastly different from my own and that challenges me," he says. "It's great to be challenged. This work challenges my position as Xwelítem (European settler) in Stó:lō Téméxw (Stó:lō land/world) and pushes me to dismantle my own thoughts and learn new paradigms. It's personal work. It's relational. It's important. Maybe vital is a better word than important… We live in changing world, and I am hopeful that it will change for the better, but that requires effort. I'm driven by that, by the hope that our world will change for the better."
Lisa was interviewed in Skookum magazine in 2020. Find her here (pg 32).
Share This