Alumna reflects on 30 years at UFV
Diane Griffiths ran the gamut, from student to AVP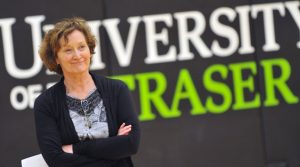 The first time Diane Griffiths ventured into a classroom at Fraser Valley College, she was sure that she didn't belong there.
"I had left home when I was 17. I'd always wanted to go to university, but it's really tough when you're on your own and dealing with the expenses of daily living."
After living in BC's Cariboo region with her husband Barry for a few years and becoming the mother of three children, she tried again, this time sitting among eager 18-year-olds in Alan Cameron's French class.
"He came around asking what we'd done this summer and all the young ones were talking about having travelled to Europe or working a cool job. When he got to me, tears just started to fall. I felt so out of place. Alan was patient. He kept going around the class talking to students, and eventually he reeled me in and got me talking.
"I have to say, instructors like Alan Cameron, Jack Gaston, Virginia Cooke, and others really did a great job of making you feel welcome as a person and a student. They made me feel like I belonged here, and I could do it.
"I found a small group of mature students, and we'd study together. And the younger students were very welcoming and often asked to join in. UFV really was a place of hope, belonging, and intellectual curiosity for me."
Griffiths wound up loving the classes she attended at Fraser Valley College, before transferring to SFU to finish her degree because the college only offered first- and second-year classes at that time.
When she began working as an assistant in the Writing Centre, Griffiths never imagined she would spend almost 30 years at what became UFV, and one day retire as the Associate Vice President of Human Resources. In that first job, she discovered a love for helping students, just has she had been helped by the kindness of others. "Working with students was an opportunity to give back to a place that had given so much to me," she recalls.
Retiring 30 years later, Griffiths has found joy in her work every day, both in the UFV community and in seeing the impact the school has on students. She volunteered at Convocation for many years, and one of her jobs was ushering grads across the stage. In the earlier years, many were ones she knew, and it was a joy to see them cross the stage. "When my daughter was graduating she came up the ramp and planted a big kiss on me and made me cry. Good thing I had my back to the audience."
Always publicity shy, Griffiths was reluctant to even have a retirement party, but the thought of not being able to say goodbye to UFV properly changed her mind.
"I'm leaving the HR department in a good place. There are many great people working there and they are ready to take care of things from now on. I am happy to be retiring, but sad that I won't be seeing all the wonderful people at UFV every day, and that I won't be surrounded by all those young students, so full of optimism and energy."
Share This