Alumni Siblings Order Commemorative Pavers to Honour Parents
In December 2020, brothers Harvinder Mangat (Dip, Crim '05) and Sukhvinder Mangat (BA, Crim '15) decided to order two custom-engraved paving stones to pay tribute to their parents and support student bursaries at UFV. Commemorative pavers are a unique new feature of the revitalized garden and entrance under construction at UFV's Abbotsford campus.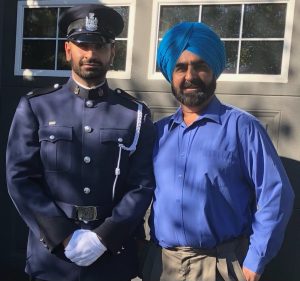 The Mangat brothers are both UFV alumni from the Criminal Justice program. They wanted to give back to UFV for the excellent education they received and to honour their parents at the same time.
Harvinder is a constable with the Abbotsford Police Department (seen here with father, Buja Singh,) and Sukhvinder is a Border Services Officer with the Canada Border Services Agency (seen below with his mother, Jaswinder Kaur).
The Mangat brothers attribute their chosen professions in protection and community service to their parents' values and to their upbringing. "They instilled strong morals and put us in the mindset of giving back" says Harvinder. The natural progression was to attend the Criminal Justice program at UFV and embark on professional careers that upheld their family's beliefs.
"As a graduate, I think it's a good thing to donate whatever you can once your career is flourishing, to help current students pursue their education." Sukhvinder Mangat (BA – Criminal Justice '15).
Harvinder and Sukhvinder chose to honour their parents with two commemorative pavers — one for each parent — to thank them for their strength, ethics, and for all they endured by coming to Canada in the 1980s. The brothers wanted to express their gratitude in a tangible way to say that they wouldn't be where they are now without them.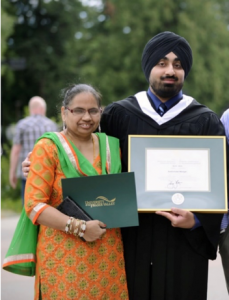 They also wanted to thank UFV for providing such a high quality education, close to home. "There are a lot of people in this community that, like us, came from a humble background and going away to university is not really an option. So having an institution in our own backyard and that is of the same caliber as other universities is amazing."
The Mangat family is looking forward to seeing their custom-engraved pavers this summer once construction is complete.
UFV is still accepting orders for commemorative pavers. You can leave your mark with your grad year and program, honour a loved one (parents, grandparents, friends, family) or simply leave a lasting memory at UFV. For more information, please click here. The final deadline for orders is April 30, 2021.
Click here to order your paver today! Alumni, please click here to order and receive your special discount.
Warmly,
Anita Nielsen, CFRE, MMSt
Executive Director, Advancement & Alumni Relations
Orders for Paving Stones are now closed.
We thank each and everyone for your contributions.
The constructions are on their way.
Share This