Empowering Others
How Sarah Gabor-Martinez Channels Her Experiences to Create Safe Spaces for Others
Many international students face challenges when they first come to Canada. It isn't always just about culture shock. It can be a very lonely experience at first, and sometimes isolating, especially when the dominant culture isn't welcoming.
Sarah Gabor-Martinez (BA '17, Cert Lens of Empowerment '15, Cert Indigenous Maps, Films, Rights and Land Claims '17) has built her career around solving these challenges.  Her work as the Coordinator of Global Engagement & Contact Training at UFV International is built around creating spaces for international students to find themselves in a Canadian context.  Sarah pours her personal experiences and insights into this space.
"One could say it is in my blood," says Gabor-Martinez. "Both my parents worked in the field of social justice. It is how they initially met in Mexico. They worked for a non-profit peace organization called Casa de los Amigos, which translates to Friends House. There, they supported and housed refugees escaping violence from South and Central American countries."
Gabor-Martinez grew up as a mixed-race Canadian, an identity that is not uncommon, but one that has often left her feeling 'othered'.
"As a biracial woman, I often find I don't know where I truly belong," she says. "I have experienced not being truly welcomed by other Latinx people since I am not 100% Mexican by blood and not accepted by other white people because I did not conform to their standards."
Elementary school was where she first learned that her classmates viewed her as a racialized person.
"One day, in class we were both used as an anti-racism training example," says Gabor-Martinez. "The teacher explained to our class that just because me and the other student had darker skin did not mean we should be racist to them. At that moment, I remembered being shocked and puzzled because I did not see myself as different."
It's this upbringing and experience that influences Gabor-Martinez's work and drives her to create welcoming and engaging spaces for international students. During her time as a student at UFV, she took part in several activist groups including the UFV OXFAM Club.
OXFAM is a Non-Government Organization that works towards ending world poverty by empowering women's rights. While a part of the UFV club, including acting as its president in 2015, she hosted several on-campus events and advocacy campaigns.
"While I was the club president in 2015, I hosted a fundraiser called Oxjam, a music soiree at the old Aftermath student pub," says Gabor-Martinez. "We invited Miriam Palacios, who worked as an OXFAM Policy and Outreach officer, as our keynote speaker to educate how women are responsible for the majority of food production in many developing countries, despite having restricted access to markets, land, and credit."
She also supported several initiatives around International Women's Day.
Since then, Gabor-Martinez has completed several degrees and minors, all stemming from her desire to understand different cultures with the aim of building equitable spaces.
Now at UFV International she is putting her efforts into practice. With the support of her team, she has helped rebrand and revise many of the programs UFV International offers to make the spaces more equitable and welcoming for international students.
"An equitable and accepting environment is when all of our identities are respected and empowered to be their authentic selves," says Gabor-Martinez. "It can also be something as simple as taking the time to learn someone's name correctly and make them feel a part of the community."
But this work also requires building capacity in her students to be able to handle challenging situations.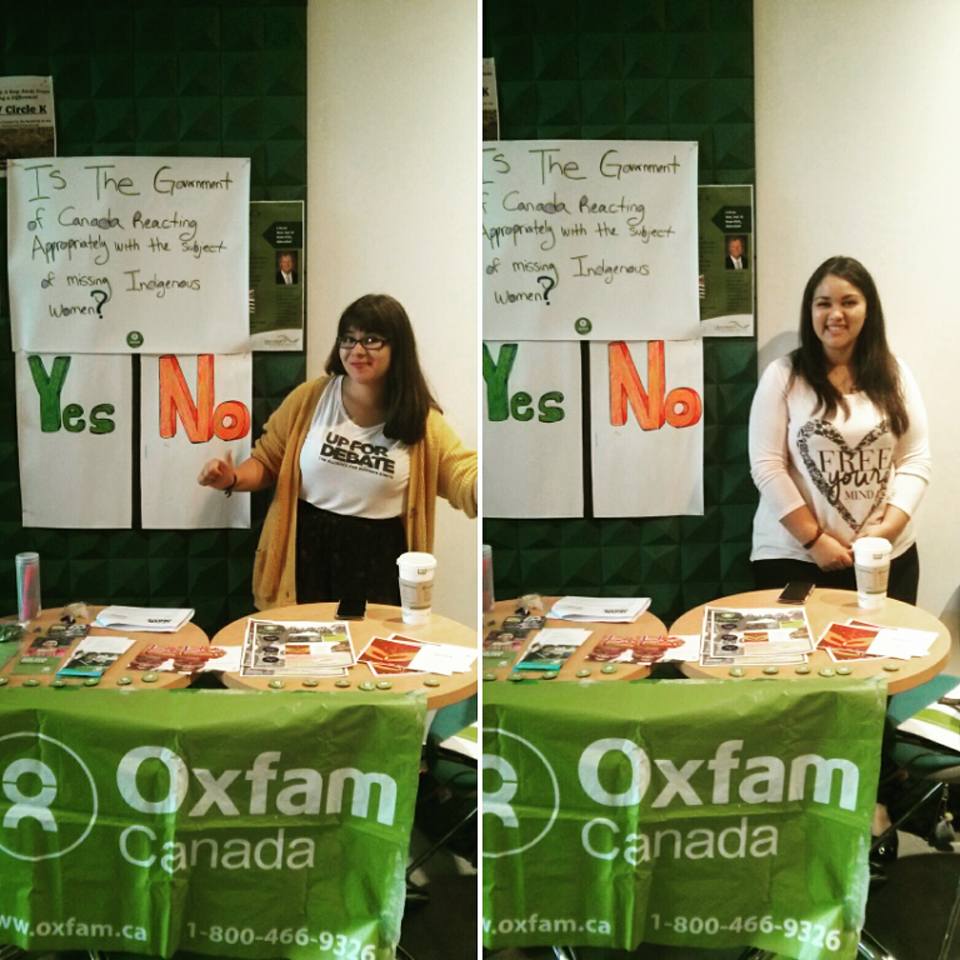 "In our recent training, my amazing student worker Niranjana suggested we expand our Building a Diverse and Inclusive Community, by adding a discussion about dominant culture and becoming an active bystander," says Gabor-Martinez. "The discussion deeply resonated with most of them. One of our leaders even took the time to even thank us after the training as they have seen a friend navigate aggressions from our dominant culture.
"In my experience, I have learned that if you take the time to build intentional spaces where students can share their experiences and then provide tangible tools such as active bystander training, they can be empowered to be positive change makers."
During the COVID-19 pandemic, the UFV International team found their students were having difficulties making connections and being an active part of the community while classes were strictly online. To counteract this, Gabor-Martinez and her colleague, Savannah Waite, rebranded the UFV International orientation.
They called it CLIMB.
"As we wanted to symbolize not only our beautiful backyard that are the Cascade mountains but also help the students recognize that they too are climbing their own mountains," says Gabor-Martinez. "An international student journey to Canada is not an easy one. Especially during the pandemic."
To build community, the pair were active on Instagram, creating reels and stories, sharing their experiences and their authentic personalities.
"The response from students was phenomenal," says Gabor-Martinez. "We got more dm's then emails and began to build strong connections with our remote students."
Since then, international students have returned to campus, but Gabor-Martinez's work hasn't slowed down. She continues to work hard to make UFV's spaces equitable and welcoming for international students.
She is joined by an amazing staff at UFV International who strive every day to reach this goal.
Keep an eye on the department's social media to see their ongoing efforts.
Share This