Glowing recognition
UFV Alum lights up the Abbotsford Airshow with 60th Anniversary Logo
What started as a project for students of the Graphic + Digital Design (GDD) diploma at UFV turned into a glowing opportunity for Rebeca Gadsden.
In 2021, in preparation for the 60th anniversary of the Abbotsford Airshow, the event partnered with UFV to give GDD students the chance to design a logo and poster for the event. The partnership was orchestrated by GDD professor Eric Lee and Dave Reith the Operations Manager of the Abbotsford Airshow. The best designs would then go on to be the official branding for the Airshow.
Gadsden was one of two students, along with Julianne de Guzman, whose work was selected. Her logo became official and was even showcased in glowing lights, during the event's Drone Show, much to the delight of UFV Ripple Makers, who attended. It was a moment of pride that Gadsden even shared on her personal Instagram.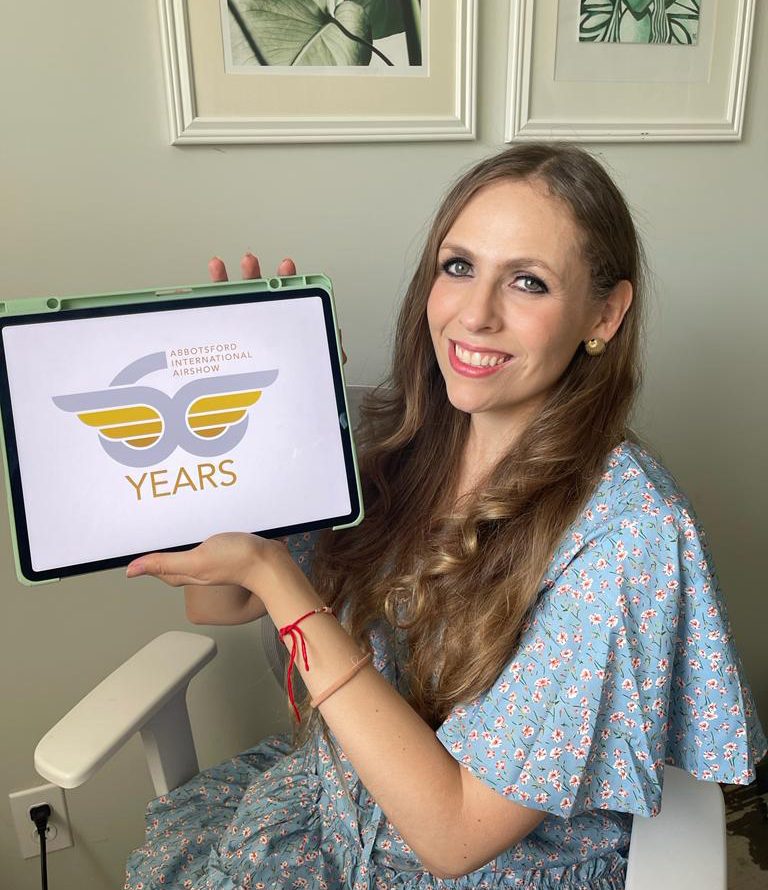 Since then, she graduated from the program in 2022, developed her professional portfolio, and is now working as the marketing manager and Graphic Designer for Maan Farms in Abbotsford.
Gadsden came to the Fraser Valley from Mexico, where she earned masters' degrees in administrative engineering and communication. She has built a career as a freelance marketer.
"I decided to study marketing because it is a challenging and exciting career that has contact with all areas of an organization," says Gadsden. "What I enjoy most about marketing is giving brands a voice and translating objectives into emotions. I like to communicate, but above all I love building lasting relationships between brands and their audience."
Her experience includes work for the Mexican federal government, for an aerospace company, and as a magazine publisher.
Personal growth is something that Rebeca is very adamant about.
"I see myself continually evolving personally and professionally, adding new studies to keep up to date and surrounding myself with people who contribute positively to my life," she says.
To better serve her clients and further develop her skills, she decided to enroll in the Graphic + Digital Design program at UFV.
"Becoming more proficient in graphic design was the next step to completing my career and offering a better service to my clients," says Gadsden.
"During my time at the GDD program, I completed projects that represented a great challenge for my creativity," she says. "I was able to present these projects in a professional portfolio at the end of the last term as a graduation requirement under the supervision of Karin Jagger, a professor for whom I have great admiration and respect. With these projects I was able to put together a website that represents me in every professional aspect."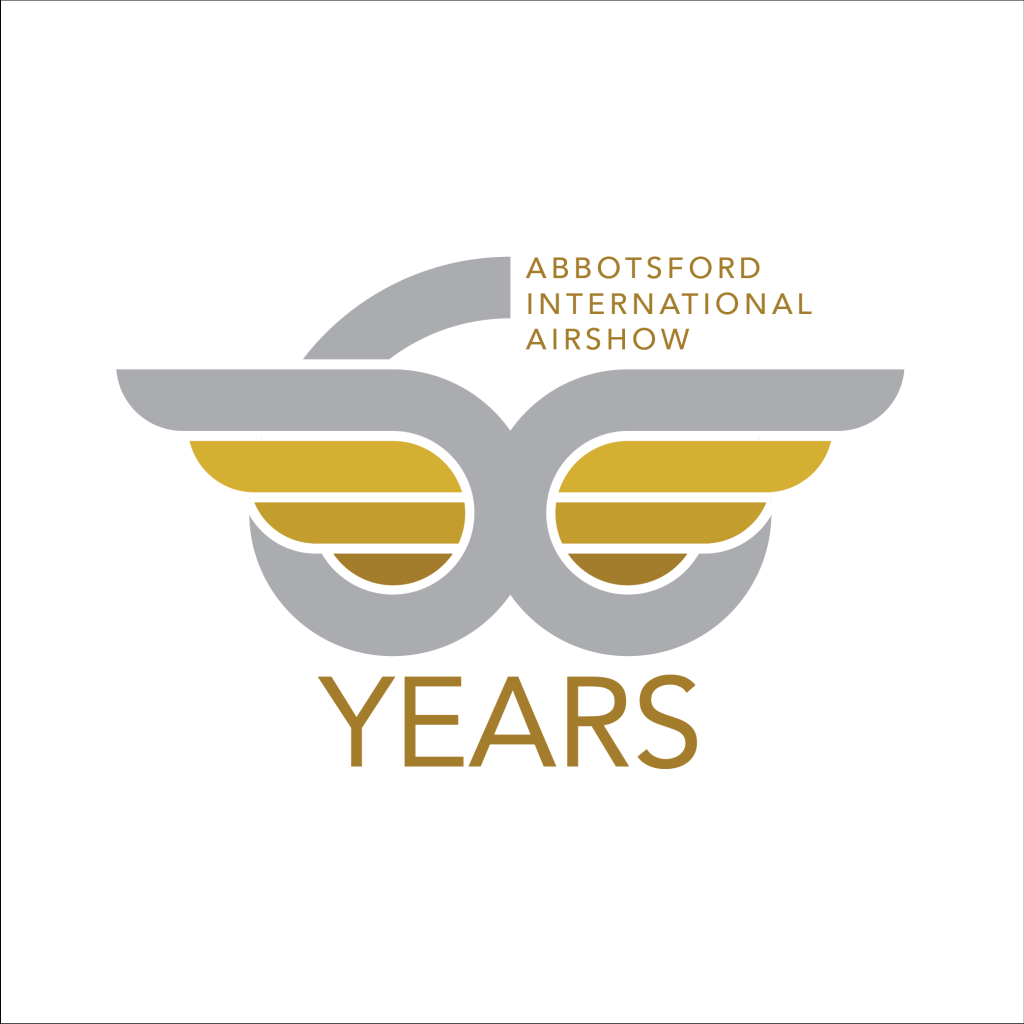 It was during her time in the GDD program that she had the opportunity to design for the Abbotsford Airshow. And she approached the project with dedicated research and brainstorming.
"The first step was to carry out research on the background of the Airshow," she says. "That led me to brainstorm keywords, concluding that wings as a symbol and courage as a value were key pieces in this show and that I was going to design the Airshow's 60th Anniversary logo around those two elements."
If you attended the Abbotsford Airshow this year, then you have seen her design.
"Courage is defined as mental or moral strength to venture, persevere, and withstand danger, fear, or difficulty," describes Gadsden. "The wings in the logo represent courage. Courage is what lifts you up, what motivates you, what moves you, and what makes you fly. Courage is what it takes to represent a country, to defend it, to carry it within the soul in whatever sky you fly.
"The wings are golden because the sun has filled them with its rays of light; they are golden because 60 years of flight need to be celebrated," she continues. "The three different shades represent: celebration, victory, and joy. The golden wings are the soul of every pilot and of every person who looks to the sky with the hope of a better future."
Following her logo being selected, her and Julianne de Guzman (Dip GDD '22), whose poster was selected to represent the Airshow, were given the opportunity to design the Airshow's program booklet.
"It's a 48-page magazine framing the show's history, itinerary, sponsors, biographies, children's activity pages, event map and other interesting information," she describes. "We did this project under the coordination of Jadene Mah, who manages media the Abbotsford International Airshow."
On the first night of the Abbotsford Airshow, Gadsden witnessed her logo displayed as glowing points in the night sky by 80 drones.
"It was an unbeatable moment!"
After she graduated, she made her professional profile live. The very next day she was contacted by Maan Farms, who found her profile on LinkedIn, wanting to interview her for the position of marketing manager.
"I have been working with the Maan family for six months and I am very grateful to them," she says. "They are a family with great heart, and an admirable business vision. Every day I learn something new working with them."
Rebeca's work has become a mainstay in Abbotsford. She has journeyed far for her achievements, and still has so much more to discover.
"I would encourage everyone to stop labeling themselves professionally as something and instead try everything," she says, reflecting on her own journey. "Only by trying other areas or professions that we discover new talents and expand what we like. Life will surprise you with its richness!"
As well, she wished to thank her instructors at the Graphic + Digital Design program at UFV.
"Thanks to all my GDD teachers," she says, "I would have loved to mention you ALL. Jen Deon, thank you for the dedication, heart, and effort you put into improving the program! It is worth it!"
You can find Rebeca's work online, including her process for designing the Abbotsford Airshow 60th Anniversary logo: Rebeca's Behance
View this post on Instagram
Share This