An image by a Stó:lō artist will grace the awards presented to two of UFV's top alumni this fall
Stó:lō artist Fred Jackson was approached early in the fall of 2021 to help design a new award for UFV's Distinguished Alumni Award program. The new design is part of the Alumni Association's ongoing commitment to Indigenization.
First awarded in 2003, the UFV Distinguished Alumni Award is conferred on a UFV graduate who has achieved outstanding distinction in their career, educational achievement, or community service. The Alumni Association added the Young Distinguished Alumni Award in 2012. It targets graduates under the age of 35. Both awards recognize and celebrate the accomplishments of exceptional alumni, emphasizing the hard work of our alumni across all ages and careers.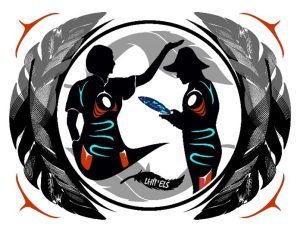 Reviewing the criteria for the award, Jackson was inspired to create a design he has titled LHÍT´ELS, which stands for "give gift away, receive the honour of the gift".
"I wanted to incorporate into the image the giving of the eagle feather. The giving of the eagle feather is an honour. It's something that you have accomplished, and you want to accept for the next step in your life," said Jackson in an introductory video shot for the 2021 Celebrating Difference Makers event held on November 10, 2021.
The event honoured the 2021 Distinguished Alumni Award recipients, and UFV Ripple Makers receiving Loyalty, Lifetime, and /or Legacy paddles.
"The Association was looking for a way to celebrate the contributions its Distinguished Alumni Award recipients make to the community while recognizing and honouring the contributions that Stó:lō people have made — and continue to make — to our community", said UFV Alumni Association Chair Derrick Uittenbosch. The framed artwork will be awarded to each Distinguished Alumni Award recipient starting with the 2021 honorees.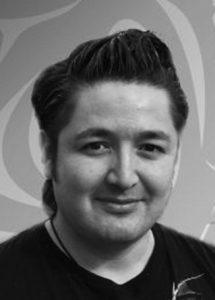 ABOUT THE ARTIST
Fred Jackson, from Tzeachten First Nation, was born in British Columbia, Canada. Influenced by his surroundings of nature, he began exploring his artistic abilities as a young child. The eyes of the wildlife have always inspired him to move forward in his artwork and to bring illustration to life. Contemporary art and custom designs are among his specialties. Jackson has explored a variety of mediums and methods for native design, portrait, carving, graphic design, mural, and landscape painting.
Share This