Realtor friends team up to support women students at UFV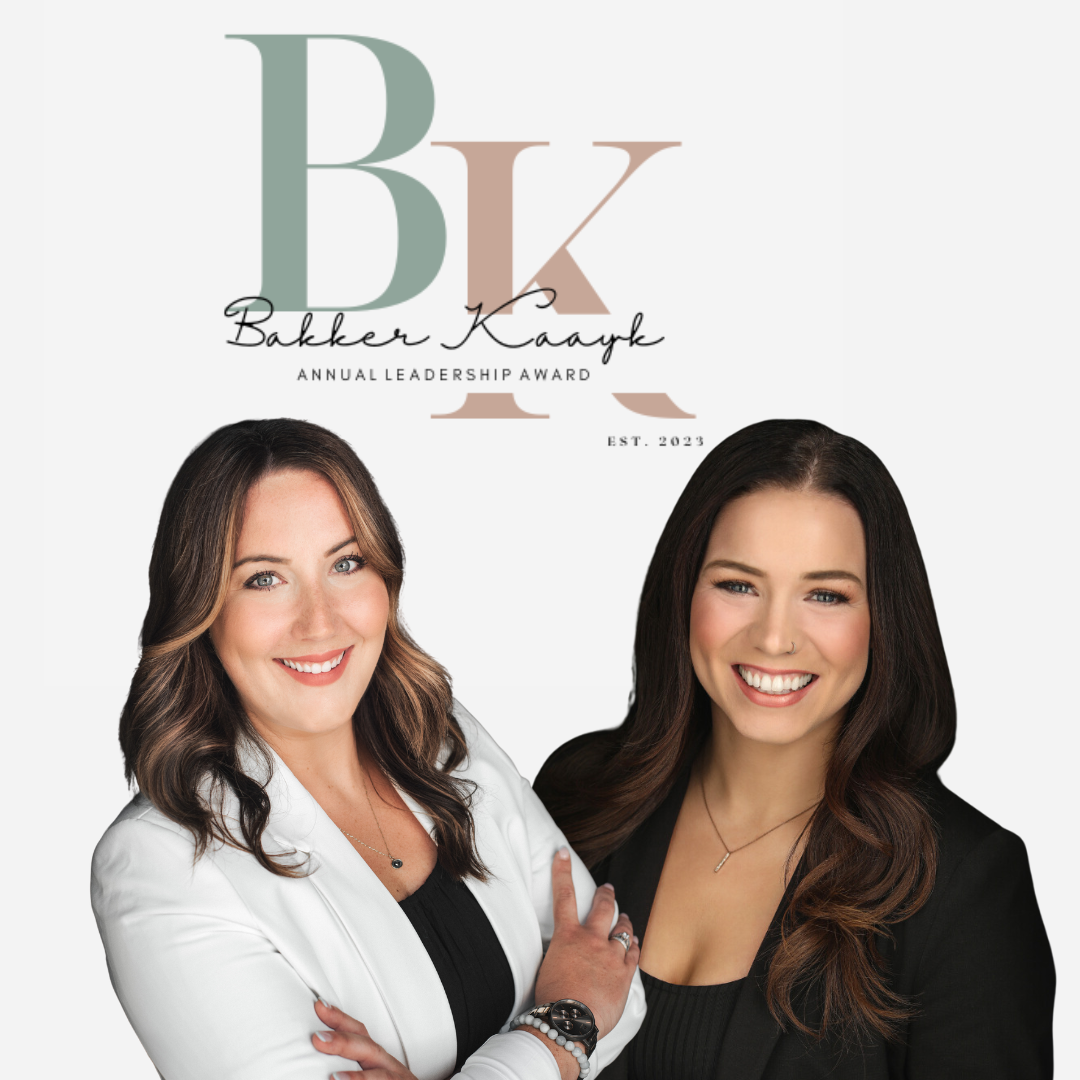 They're friends, realtors and UFV alumni who want to give back to their university. But Heather Bakker and April Kaayk took programs that you would not normally associate with preparing for a career in real estate.
The common factor? They developed great people skills and client relations expertise by training in the health-care field, as a certified dental assistant (Bakker) and health care assistant (Kaayk).
Heather Bakker's time at UFV was very inspirational for her. She completed the Certified Dental Assistant program in 2015 under the guidance of program coordinator Rosie Friesen and other faculty members During her time at the university, Bakker received numerous awards and accolades, due in part to the leadership and support of Friesen.
Friesen even wrote a letter recommending Bakker for a Lieutenant Governor's Medal.
"The award is fantastic — but that letter is what I cherish," says Bakker. "I have it in my email. I read it sometimes. I still speak with Rosie. She is beyond wonderful."
April Kaayk was inspired to complete her Health Care Assistant certificate through UFV in 2011 by her mother, who worked in the field.
"I thought at the time, that I wasn't sure if I wanted to do this" says Kaayk. "But I'm thankful I did."
Kaayk discovered during her time as a care assistant that she enjoyed working with people, something she carries forward through her current career, in all its pathways.
Now the pair have come together to create the Bakker & Kaayk Annual Leadership Award, which honours one female-identifying student with a $1,500 scholarship each year. The hope: to continue to inspire women to find their dreams and pursue their education, even in challenging times.
"I knew that I always wanted to give back to UFV in some way, because the teachers I had when I was in the dental assistant program truly impacted my life," says Bakker.
"I asked April if she wanted to be involved in something like a scholarship so we can show people that you can get along and do good things together even if you don't work at the same brokerage."
Kaayk was inspired to give back because of the support she received from her mother growing up.
"I grew up as an only child with a single mom. It was just me and her," says Kaayk. "So, to be able to give somebody an opportunity to pay for something to better themselves is huge."
Bakker and Kaayk did not meet at UFV. They met while working as realtors at competing companies. In a notoriously competitive industry, the two found inspiration in their commonalities and worked hard to collaborate rather than compete.
The career pivot for both women was not an easy one.
"It took me 12 years to get the confidence to do it," says Kaayk. "I just didn't think I'd be smart enough, or a good fit for real estate."
But soon she found that her skills as a health care assistant helped her in her new career to bring a human element to a typically sales-oriented business.
"The change was really hard because I did love my job as a dental assistant," says Bakker. "I loved my patients, I loved my boss, I loved all my coworkers. It was honestly sad. It was like a death. But I couldn't physically do the job anymore. So, I took an entry-level job at the brokerage I'm now employed by."
This leap of faith paid off for Bakker, who soon after took the real estate course at UBC and began work as an agent.
When the pair met, it was through their side businesses, Kaayk reaching out to Bakker for some sweater prints. And from there they hit it off.
"How we actually met is April ordered hoodies from my side business. So, I invited her for lunch. And then when we met, we realized, oh, we're the same. It was very authentic right from the get-go."
From there, the pair have been working together to support one another in their business, despite being from different real estate companies.
And not long after, they came up with the idea to create and fund a scholarship to support women.
"I asked April if she wanted to be involved in something like a scholarship so we can show people that you can get along and do good things together even if you don't work at the same brokerage. This isn't for marketing our real estate services. This is simply because we want to do good. And let's show how you can be different and cooperate together," says Bakker.
The philosophy was to create an opportunity for someone where there might not already be one, knowing that not everyone has the chance to pivot into a new a career the same way they did, especially as new mothers.
"I know just from my friends and some clients, there's a bigger trend, I think, of moms going back to school to educate themselves," says Bakker. "So, that's why we wanted to make this award for women and moms. And I think ideally in my mind, I picture a mom who's struggling and trying to educate herself so that she can provide a better life for herself and her kids and have this opportunity to be given something that would help do that."
Share This